Lifecycle Extension for Allen Bradley ControlLogix Family
Published on : 14 April 2022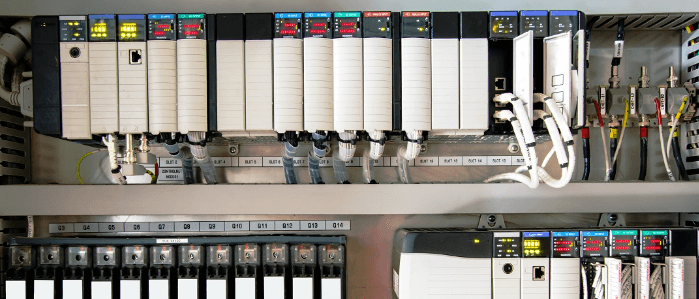 One of the main reasons for systems becoming obsolete is the early & frequent advancements in technology and the replacement of the components by manufacturers with latest offerings. Obsolescence affects system supportability, safety and operational effectiveness. Also, replacement or renewals of systems can prove to be a costly affair and often difficult to justify.
The ControlLogix family of Programmable Automation Controllers (PACs) boasts of advanced process, motion, safety and information capabilities. No wonder, that this series has become a reliable automation partner for operators around the world. This is because they benefit greatly from Rockwell's Integrated Architecture system, where a common design setup and networking can be accessed.
Launched two decades ago, ControlLogix controllers have proved to be a boon for various process applications. These controllers significantly improve the amount of exchangeable information between the control and supervisory layers. Also, operators can execute more control strategies during the process. This not only enhances access to real-time information for improved productivity, but also boosts system performance.
ControlLogix: Overview
The ControlLogix controller forms part of the Logix 5000 family of controllers. A standard ControlLogix system consists of a standalone controller and I/O modules in one chassis. A few ControlLogix products are available with a conformal coating that adds a layer of protection when exposed to harsh, corrosive environments.
ControlLogix controllers can monitor and control I/O across the ControlLogix backplane, and over I/O links. ControlLogix controllers can communicate over EtherNet/IP, ControlNet, DeviceNet, DH+, Remote I/O, and RS-232-C networks and many third-party process and device networks.
Multiple controllers in the same chassis communicate with each other over the backplane, operating independently. To provide communication for a ControlLogix 5570 controller, users often install the appropriate communication interface module into the chassis. ControlLogix 5580 controllers come with a built-in EtherNet/IP port.
Features of ControlLogix Systems
The most emphatic case favoring the ControlLogix system is that it uses a common control engine with a common development environment. This helps provide high performance in an easy-to-use environment. Additionally, operators get a tighter integration between the programming software, controller, and I/O modules. This effectively optimizes development time and commissioning cost during normal operations.
Operators can effectively perform standard and safety control in the same chassis to enjoy the benefits of an efficient integrated system. The system's high-availability and extreme environment capabilities also help meet diverse application needs. Over the years, the ControlLogix family of controllers have provided high-speed, high-performance and multi-disciplined application control along with fully capable controller architecture with bump-free switchover and high availability. The system provides modular and scalable network communications with broadcast range of communication and I/O options. Operators get time-synchronization capabilities for first fault, process sequencing, and other applications. The system also features TUV-certified products for use in SIL 2 and SIL 3 applications.
ControlLogix: Obsolescence Risk
There are a host of products under the ControlLogix family of controllers. To understand the risks of obsolescence, we must categories them under the following four lifecycle stages:
• Active: includes the most current Rockwell Automation products.
• Active Mature: products that are fully supported, but a newer product or product family exists.
• End of Life: the discontinued date has been announced and it is time to actively execute migrations and last-time buys.
• Discontinued: products that are no longer manufactured, but repair or exchange services may be available.
While the ControlLogix systems were highly recommended by Rockwell Automation as the natural switch-over for PLC-5 users, all is not hunky-dory for users. The reason for this is a patchy discontinuation of critical components and series within the family. This has been attributed to version or series changes, which warrants modification/discontinuation of important components like CPU, communication modules and other functional modules.
This has caused significant confusion among operators, as they are worried about the future compatibility of their ControlLogix systems with the latest components introduced. Also, there might be instances where programming a new addition proves to be challenging for existing users. Also, there remains the constant fear of hardware or software mismatch, wherein an existing firmware is not compatible with the latest introduction.
Overcoming Obsolescence Challenges
There are various steps to ensure that despite frequent discontinuation of components and entire series, operators can effectively maintain and run their coveted ControlLogix controllers. The following tips & tricks should go a long way in dealing with obsolescence:
1. System Validation
Carrying out system validation at frequent intervals ensures that both new and existing systems consistently fulfill their intended purpose. This also helps provide precise and authentic results. Validating your ControlLogix systems enables regulatory compliance, ensures fulfillment of user requirements, and helps identify invalid and altered records.
2. Efficient Spare Management
The biggest fear among operators when components turn obsolete is the lack of availability of spares. Therefore, an early rationing of spare parts not only helps ascertain operational longevity effectively, but also notify the procurement department in advance, to ensure sufficient stocks.
Alternatively, you can partner with an efficient automation solutions provider like IndAXonline, who specialise in servicing obsolete equipment and also take care of your spare part requirements.
3. A Valid Warranty
An all-inclusive warranty structure takes care of your Active Mature components beyond their obsolescence and keeps the plant up and running. A warranty ensures peace of mind for operators, who do not have to be constantly threatened by functionality glitches while running obsolete equipment.
Therefore during testing times, it's important to choose an automation maintenance partner with a reliable warranty and a track record of support for the equipment they have delivered. IndAXonline offers a comprehensive warranty from 6 months to 12 months on all your legacy automation systems and their installed components.
4. Training and Education
This is an important long-term strategy that always benefits companies during testing times. It is extremely important to train the available engineering resources in case of a migration or component-change scenario. Honing your existing human resources makes them competent to improvise during challenging situations. In the long run, such trained personnel can also become competent trainers themselves, to impart knowledge about obsolete products.
Overcoming Obsolescence: The IndAXonline Advantage
Your trusted ControlLogix systems might have witnessed several components turning obsolete, but we at IndAXonline are always here to help. We partner you for all your maintenance and servicing requirements, of obsolete components. We will assist you with spares and services warranty for three to five years, and also provide expert guidance for seamless operations.
Trust us to provide warranty for all the hardware spare parts you have purchased, along with comprehensive repair support. Existing users are guaranteed best-in-class quality of spare parts. Our service experts promise you the shortest possible delivery and redressal times, so that your operations do not get hampered.
IndAXonline ensures accurate demand forecasting for spare parts. End of Life installations will now be a breeze with IndAXonline by your side.