How to Better Maintain Allen Bradley SLC-500 System
Published on : 14 April 2022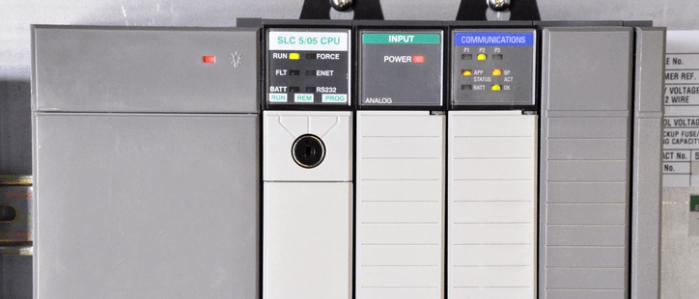 Machine users and automation experts have, for decades, relied on the versatility and reliability of the Allen Bradley SLC 500. However, with the parent company deciding to phase out this series of controllers, current users are in a dilemma over the operational bottlenecks in store for the future.
Why Opt for the SLC 500?
Think flexibility, think SLC 500 from Allen Bradley. This tried and tested work horse from Rockwell Automation has set benchmarks in the small, chassis-based, modular category of programmable controllers and I/O. The Allen Bradley SLC 500 came with a sleek, modular design, which ensures users need not opt for small and mid sized traditional controllers, thereby saving costs.
Over the years, the Allen Bradley SLC 500 family has been the default choice for users looking for more power, safety, reliability, and customizability at affordable prices. The idea is to cater to the small and mid-sized automation requirements, without compromising on the quality & Safety of output. The best part of having an Allen Bradley SLC 500 is that customers do not need to pay for the unused capacity and features of a full-size PLC unit.
Customers can configure the exact stand-alone or scalable distributed system for durable and reliable control of a machine operation or process application. This can be credited to the chassis-based platform of the SLC 500, which offers rugged build quality and excellent features.
Little wonder then, that the SLC 500 finds favor across a wide spectrum of applications around the world of automation & control segment. After all, it's hard to find a product, which ticks all the right boxes of reliability, operational flexibility, features, and affordability.
SLC 500 Technical Structure
The Allen Bradley SLC 500 comes with ladder-logic and structured-text programming. Its advanced instruction set includes file handling, sequencer, diagnostic, shift register, immediate I/O, and program control instructions. Additionally, it gets a built-in RS-232/422/423, DH+ and Ethernet communication port. The SLC 500 system can also be extended on Remote IO, DeviceNet and ControlNet I/O. One or more on-board ports can be configured for either Data Highway Plus (DH+) or Universal Remote I/O.
The Universal Remote I/O ports of the SLC 500 can be configured as an I/O scanner port or an I/O adapter port. Built-in web services are ensured via Ethernet PLC-5 controllers and the Ethernet interface module (1785-ENET). The SLC 500 Backup Communication module (1747-BSN) provides the required backup options for increased fault tolerance.
Allen Bradley SLC 500: Battery Replacement
The Allen Bradley SLC 5/03, SLC 5/04, or SLC 5/05 processor provides back-up power for RAM by replaceable lithium PLC battery. This is a PLC battery, which ensures back-up for around two years. Customers get a BATT LED feature, which warns them when the PLC battery voltage drops below the stipulated levels.
To ensure the SLC 500 performs optimally, customers need to practice prudent battery maintenance practices. As an added advantage, PLC batteries can back up data in RAM for at least 30 minutes.
While replacing the lithium PLC battery, users must remove power from the SLC 500 power supply. At this step, it is important not to remove the processor from the SLC 500 chassis until all power is removed from the SLC 500 power supply.
Once done, the users need to remove the processor from the chassis by pressing the retainer clips at both the top and bottom of the module and slide it out. Next, they need to unplug the PLC battery connector and remove the PLC battery from the retaining clips. This is when a new PLC battery needs to be inserted into the PLC battery retaining clips.
The users now need to plug the PLC battery connector into the socket and re-insert the module into the SLC 500 chassis. Once all these steps have been followed with precision, power supply can be restored to the SLC 500.
Current Market Status of the SLC 500
Rockwell Automation has announced that some SLC 500 Bulletin numbers are discontinued and no longer available for sale. Starting 2010, the SLC 500 is being gradually phased out by Rockwell Automation. The SLC 5/01 and SLC 5/02 controllers were discontinued in January 2017, while the Bulletin 1747 SLC 5/01 and 5/02 series controllers were also discontinued soon after, and are no longer available for sale. The Bulletin 1746 SLC 5/03 8K series controllers faced the axe in August 2018.
The company currently recommends the CompactLogix 5370 or 5380 controller platforms as a suitable replacement. This does not hamper the production process, and also provides the requisite quality and results. The aim is to help users minimize downtime, reduce manufacturing costs, and improve operating efficiency, which the SLC's installed base used to provide.
Current Challenges for SLC 500 Installations
The SLC 500 has been a workhorse for all the three decades of its existence. However, the series is now in the "matured" state, and is slated to achieve "end of life" status soon though many of its products are already in "End of Life". This means, in order to run the machines installed with SLC 500 units at their previous operational efficiency, users will need to upgrade these SLC 500 systems at earliest.
This is where the issue lies. Allen Bradley has, over the course of the past few years, steadily and substantially increased the cost of SLC 500 spares. While this might immediately warrant a change to a more advanced programmable controller, it is easier said than done.
Installing a fresh controller and efficiently running these new systems, would require users to undertake heavy re-engineering of their existing machinery or process. The entire production process or machine operation will have to be halted, in order to integrate a new controller. This will always involve loss of production efficiency and man hours apart from arranging the budget for the new system.
Users calibrate and customize the machines as per their project requirements. The reason why the SLC 500 programmable controllers have been successful is because of their ease-of-usage, flexibility, and speed. A re-engineering to have a new system installed, will also pose a challenge to the shop floor personnel, because they will have to undergo fresh training to understand and operate the latest machinery.
Another option, which end users might try, is to buy SLC 500 spares from the free market (online sites like Ebay and many others). However, this poses a high quality risk for users, as they are prone to end up with spurious parts. Also, online sellers do not offer any warranty or ownership of the spares they deliver.
Extend the Life of SLC 500
Worried about the life of your SLC 500? No need to fret and fume anymore! Indax Online services has you covered for all your spares and services for your trusted SLC 500 controllers. We will assist our customers with spares and services for 3-5 years, depending upon the SLC 500 model you operate. Trust us to provide this warranty for all the hardware spare parts you have purchased, along with comprehensive repair support.
Let our experts come to you for effective software debugging and faster system troubleshooting. Indax Online understands the challenges you face in an ever-dynamic and changing operational environment. That's why we assist you with our efficient expansion and re-engineering solutions, which mitigate the risks and uncertainty associated with a product's obsolescence.
We only offer OEM components with the original specifications. In case you fear that your SLC 500 might become obsolete soon, we will supply spares, which are not available in the market, for next 3-5 years. To sweeten the deal, we promise the shortest possible delivery times, so that your production does not suffer.
To address the service and spare parts availability concerns regarding the SLC 500, IndAXonline has just the right solutions on offer. We are India's largest online marketplace, and aim to assist you in keeping your SLC 500 units up and running for a long time.
To know more about our services, click here.