Allen Bradley CompactLogix: The Smart Controller for Your Machine
Published on : 17 December 2022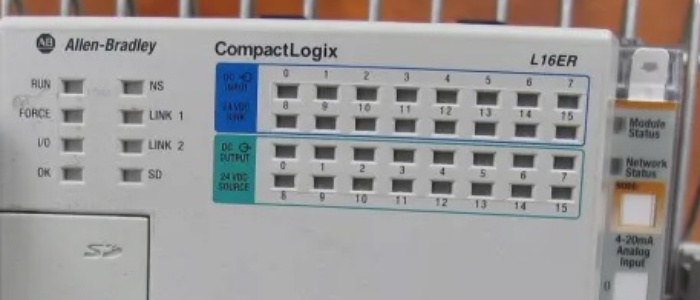 Over the years, operators across markets have understood that the key requirements from an efficient controller are its performance parameters and capacity enhancements. Also, aiding these factors are productivity credentials of the unit and the levels of security it offers. Essentially a highly productive CompactLogix controller system, this range of controllers has been the preferred choice for operators involved in the small and medium industrial operations range.
CompactLogix: The Machine Automation Expert
The CompactLogix is best suited for smaller applications. Allen Bradley has been pitching these systems as the more modern and faster alternative to the SLC 500. And this is not without reason: The CompactLogix boasts of a smaller and more affordable frame. This makes it the most viable choice for smaller applications. Also, these units require a separate power supply along with a dedicated end cap.
Rockwell Automation has equipped the entire CompactLogix series with I/O modules and the proven DeviceNet communication module. Manufactured and distributed by Allen-Bradley across global markets, the CompactLogix controllers boast of advanced control features, modular I/O and communication. All this has been packed neatly in a space-friendly and compact design package, which makes the series highly in-demand.
The CompactLogix Controllers form a part of the company's efficient Integrated Architecture system. Allen Bradley seems to have put additional efforts towards integrated safety features, as the series uses identical programming software and information features as seen on other controllers in the Logix family. The company has also left the network protocol unaltered to provide added ease of usage to operators.
This synchronization with other Logix controllers ensures all the elements of the series' control mechanism are benchmarked with each other. As a result, all the functional tools and features become consistent, thereby reducing investment costs for companies using these devices.
Additionally, a standardized algorithm makes it easier to identify errors and help troubleshoot them quicker. In an era where time is money, operators would certainly appreciate all these advantages of a controller for mid-sized ops.
Advantages of the Allen Bradley CompactLogix Controllers
Operators benefit from the variety of specification options available with the CompactLogix series. This is in line with the numerous application needs witnessed by users during testing operational times. Based on the input/output and memory requirements, these controllers can be ordered.
These controllers come equipped with the Logix architecture. Operators have, over the years, made the most of the CompactLogix series for small to midsize machines. This is because these controllers present a value proposition for customers as they bring in the benefits of Integrated Architecture, but at a much lower price point.
Allen Brandley's aim with the CompactLogix series is to provide a flexible operational workflow, while keeping its high-speed credentials intact. Taking this commitment forward is the RSLogix 5000 programming software on offer. Like other capable controllers from Allen Bradley, this range comes with a host of multi-functional communications ports.
These include ControlNet ports along with Ethernet/IP and support different types of networks as per requirement. A feature providing local expansion module support has also been provided.
Users have varied mounting requirements along with different communication modules, which this series addresses effectively. Users can mount all the models in the CompactLogix series using a DIN Rail. For seamless airflow, ensure that adequate spacing is maintained between the enclosure walls and wireways.
Operators benefit from the fact that the CompactLogix supports 16/30 I/O modules allowing a maximum of three I/O banks with two expansion cables. They can additionally install a CompactFlash card if they require more storage space. The controllers also support device-level ring, linear, and the conventional star topology found in most Logix controllers.
Taking care of the power supply requirements is a lithium-ion battery. To ensure the machine's longevity, Allen Bradley recommends storing these batteries in a cool and dry location. There is a Reset button for each of the controller's devices, which clears all user programs from the internal memory. This helps operators address issues related to controller startup.
The Case of Discontinuation
For over two decades, the CompactLogix range of controllers has provided high-speed service across industries. The aforementioned features and advantages have made them a favourite among operators who value time and frugality, without compromising on productivity. However, every machine or equipment has a lifecycle and it is indeed an industrial reality that a series as efficient and consistent as the CompactLogix will eventually face an End of Life scenario.
Another factor irking operators across markets is the fact that many CompactLogix models faced fragmented discontinuation of their components and spare parts. This disrupted operations, as users found it difficult to function with key components missing or not replaced with an ideal match. Needless to say, such occurrences have shaken the confidence of operators who are now unsure of how long they can continue with their legacy CompactLogix equipment.
Currently, there are various models in the CompactLogix family that have become obsolete. These include the following:
1769-L31 1768 / 1769 CompactLogix System. This came with a Dual Serial Processor and 512K Memory.

1769-L32C 1768 / 1769 CompactLogix System. It was a ControlNet Processor with 750 Kbyte Memory.

1769-L32E 1768 / 1769 CompactLogix System. An EtherNet Processor, it boasted of 750 Kbyte Memory.

1769-L35CR 1769-L35E 1768 / 1769 CompactLogix System. It came with an EtherNet Processor and a 1.5Mbyte Memory.

1769-L23-QBFC1B 512KB, 16DI, 16DO, 4AI, 2AO, 4HSC, 24VDC.
Worried about your trusted CompactLogix unit? No need to fret anymore. IndAXonline will assist you not only in maintaining these machines but also offers credible and reliable spare parts assistance for a period of three to five years. Additionally, you also benefit from our experts who come with decades of experience in quality adherence and precision tooling.
Trust us to provide warranty for all the hardware spare parts you have purchased, along with comprehensive repair support. Existing users are guaranteed best-in-class quality of spare parts. Our service experts promise you the shortest possible delivery and redressal times, so that your operations do not get hampered. Also, our team will stay in constant touch with you to ensure your machinery and all its critical components are functioning optimally, while troubleshooting any glitches that arise.
We also take care of your machine's warranty requirements, as it ensures peace of mind for operators, who do not have to be constantly threatened by functionality glitches while running obsolete equipment. IndAXonline offers you a comprehensive warranty from 6 to 12 months on all your legacy automation systems and their installed components.
IndAXonline ensures accurate demand forecasting for spare parts. We only offer OEM components with the original specifications. Our IoT-equipped condition monitoring solution enables predictive maintenance plans for rotating mechanical equipment. It further ensures accurate demand forecasting for spare parts.
End of Life installations will never pose a challenge to your operations with IndAXonline by your side. To know more about our services, click here.
#1769-L19ERBB1B #1769-L36ERMS #1769-OB8 #1769-OB32 #1769-SDN #1769-L33ERM #1769-L24ER-QB1B #1769-SM2 #1769-L16ER-BB1B #1769-OW16 #1769-OW8 #1769-OF8C #1769-OB16 #1769-CRR3 #1769-L35E #1769-ECR #1769-CRL3 #1769-L30 #1769-ECL #1769-CRR1 #1769-OB8 #1769-BA #1769-IQ16 #1769-L31 #1769-OB16P #1769-OA16 #1769-CRL1 #1769-ASCII